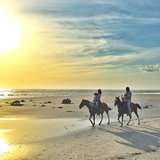 Tom Brady and Gisele Bündchen have been vacationing in Costa Rica with their family, and last Friday the group headed to the beach to soak up the sun and play in the surf. Tom went boogie boarding while Gisele walked on the sand in a sexy black bikini - the two-piece even turned a fellow beachgoer's head as he walked toward the water to go surfing!
Gisele has shared multiple photos of the getaway on Instagram including a picturesque shot of her and Tom riding horses on the beach at sunset with their little ones. Tom even posted a few cute videos on Facebook including one of him being buried in the sand and another showing one of his boys surfing for the first time! There was plenty to celebrate on the trip since Tom and the New England Patriots won the Super Bowl in February and Tom and Gisele marked their sixth wedding anniversary later that month.
I have finally emerged... And found the culprits!
Posted by Tom Brady on Wednesday, March 25, 2015
Source:
Facebook user Tom Brady